23 Jul

Claudia Dean Loves Her EPO's

When an e-mail came across our desk from Claudia Dean we believe that we may have set a new world record the fastest fingers to ever open an e-mail. 

We have been long time followers of Claudia's social media and youtube outlets.  What an incredibly inspiring, positive & motivating influence she is in our industry at the moment. 

Back when our relationship first began Claudia had students who were already wearing En Pointe Orthotics and she was intrigued to find out more about the support that they offered. 

After e-mails backward and forward we we excited to fit Claudia at her studios in Brisbane, Australia so that she could see, feel and experience the difference herself.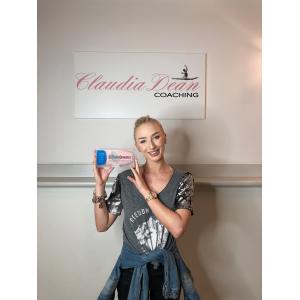 Claudia's approach to this industry, her business structure, the brand that she has developed and all of the aspects that entails including her facility and staff are so lovely, professional and inspiring.  We admire her courage to step outside of the box, and her approach the industry with a fresh perspective is uplifting and we enjoyed chatting to Claudia and her team about where the industry is at the moment and where she hopes it will be in the (not so distant) future.  
The values in both our brands align and for us the organic  relationship that we have developed with Claudia Dean and her team is a match made in heaven! 
As you can see from her social pages, posts, YouTube videos and social stories Claudia absolutely LOVES her EPO's.  She didn't hesitate to provide us with a glowing testimonial (which you can read here) and has since gone on to recommend EPO's to her students whom she believes it may assist.   
If you are not yet following Claudia or any of her social pages you can find more about her here.  The next generation/s of dancers are in safe hands with Claudia leading the way.  We thank her and her team for taking the time to try our product and all it offers so that she could draw her own conclusions and feel the difference for herself.    The ongoing support they have showed En Pointe Orthotics is forever valued and appreciated.